25 February 2022 | 2.00 pm to 6.00 pm
LOCAL ART SCENE Tunis
Curated by Dhia Dhibi, Farah Sayem and Roya Mansar.
SCHEDULE:
2:00 – 2:30 An introduction of the mapping of the Tunis art institutions
2:30 – 3:00 Mohamed Ben Soltane – Post-revolution art situation analysis (Abdellia case & B'Chira Art Center).
3:00 – 3:30 Bochra Triki – Feminist & LGBTQI organizations perspective on the Tunis art scene.
3:30 – 4:00 Thamer Mejri – A tale of a Tunisian contemporary artist in relation to the political point of view.
4:00 – 5:00 Q&A time (with speakers)
5:00 – 6:00 Q&A time (with hosts)
SPEAKERS:
Mohamed Ben Soltane:
Mohamed Ben Soltane is a visual artist and Curator exhibiting his work in Tunisia, Germany, Spain, Italy, Algeria, among other countries. He graduated in 2004 from the High Institute of Fine Art of Tunis (I.S.B.A.T). He obtained his PhD in 2015. He worked from 2011 to 2015 as artistic director of one of the leading private art centers in the Maghreb region: Bchira Art Center. He teaches cultural management and art history since 2016 at I.S.B.A.T.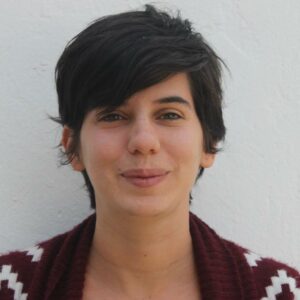 Bochra Triki: 
Bochra Triki is a professor of French litterature. She worked in several cultural projects including with Siwa organization in Redeyef and "Under the sand" in Gafsa. Between 2015 and 2019, she was the president of a feminist and LBTQI organization, Chouf. Bochra is also one of the founders of Chouftouhonna, the international feminist art festival in Tunis. She co-created Shift, a feminist graphic novel project in print and digital, produced several podcasts with Inkyfada. She's currently co-curating with Tania El Khouri Tashweesh Festival and she's preparing an installation for Dream City 2022.
Thamer Mejri:
Born (1982) in Tunis, Tunisia. He Lives and works in Nabeul, Tunisia. Thameur Mejri investigates complexities of human existence by identifying parallels between paradoxical ideas of violence, innocence, guilt and shame. The human figure acts as a central element throughout his compositions, the vigorous manner in which Mejri places the figure onto the canvas, reflects the relationship between painting and painter, suggesting self-portraits that battle to fully emerge and reveal themselves. There is an interplay between painting and film. He approaches painting as a film director and he films with the vision of a painter, allowing for the qualities of each discipline to manifest upon one another; the chaos and movement in his paintings are a testament of this. The energetic application of colour establishes the atmosphere in this confrontation between heaven and hell, each represented by blue and red. In choosing these colours as a departure point and importantly for their opposing religious connotations of heaven and hell, he confirms the major influence of these symbols, particularly in the Muslim world.
Biography courtesy of Selma Feriani Gallery