June 17th 2022 | 2 pm to 4 pm
LOCAL ART SCENE Groningen
SCHEDULE
2:00-2:15 Introduction and map of the Groningen art scene.
2:20-2:40 Belinda Hak – On the influence of Academie Minerva and the Frank Mohr Institute, the local art academies, on the Groningen art scene.
2:45-3:05 Karina Bakx – One of the founders of het resort, a site-specific residency programme for contemporary artists.
3:10-3:30 Jessie Tam – One half of the art collective Struggling Art Space and recent graduate of the Frank Mohr Institute.
3:30-4:00 Q&A
Artist Martina Dal Brollo performs at the exhibition The Way We Work, initiated by Belinda Hak.
BELINDA HAK
they/them
Belinda Hak is a curator, educator and researcher based in Groningen. They studied fine arts at the Willem de Kooning Academy and Arts and Culture Management at the Erasmus University, both in Rotterdam. They were curator of education at Kunstinstituut Melly and Kunsthalle Wien. They are currently a core lecturer at the Frank Mohr Institute and a board member of the Pink Cube, an organization dedicated to queer art and culture.
Mini-documentary about the working period of artist Michele Rizzo at het resort.
KARINA BAKX
she/her
After studying Fine Art at Academie Minerva, Karina Bakx and fellow Minerva graduate Ellen de Haan founded het resort, an initiative producing nomadic art exhibitions. het resort works in a series of 'episodes', inviting three artists each episode to create and exhibit new work in a different location each time. Previous locations included a swimming pool, a former gay sauna, a gas station and an ice skating rink.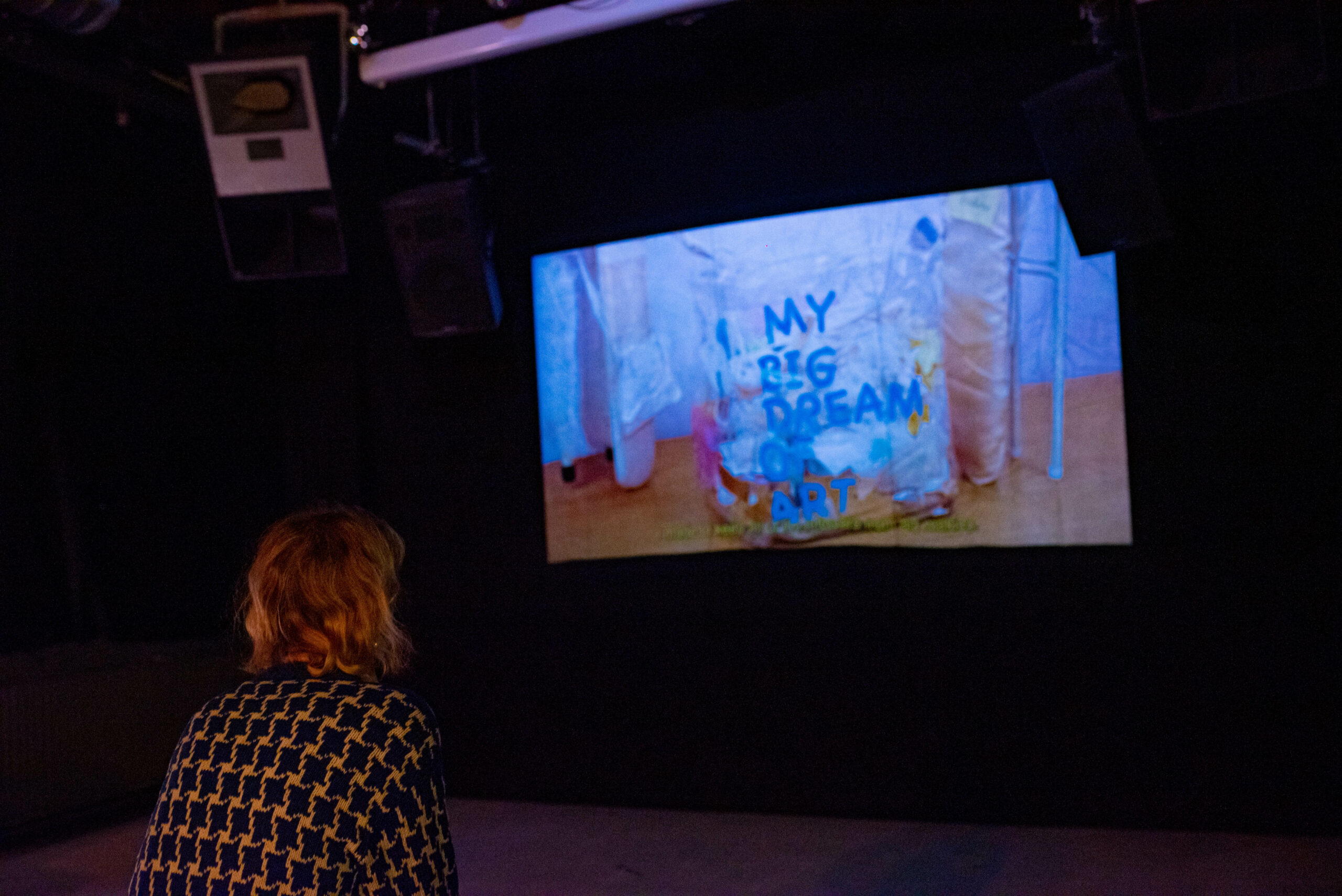 Installation view of the Struggling Art Space exhibition Once Again In One's Hand, december 2021.
JESSIE TAM
she/her
Jessie Tam is a visual artist from Hong Kong and a 2021 graduate of the Frank Mohr Institute. Along with fellow graduate Zheng Tianyi she founded the independent artists collective Struggling Art Space, documenting the failures, struggles, difficulties and questions of art practice. Actively seeking out collaborations with other artists, they reject notions of success and competition in the art world and instead search for possibilities within those competitive systems.