24 June 2022 | 2.00 to 4.00 pm
Local Art Scene Brussels (be): a peak into the illustration scene
Curated and moderated by: Kathleen de Meeûs
Schedule
2:00 – 2:15 pm: a brief introduction of the mapping of Brussels' main art institutions and illustration hotpots
2:15 – 4:00 pm: a debate about the illustration scene between our three guest speakers.
Marine SCHNEIDER (she/her) | www.marine-schneider.com

© Jules Toulet
is a Belgian author and illustrator. Aged five, she firmly affirmed that growing up, she would make children books. Fast forward fifteen years, she started studying illustration in Ghent, where her passion for picture books was only reinforced. A traveler at heart, she loves wandering through vast and preferably snowy landscapes, alone or with company. Her roamings around the world, from the very North to the very East, inspire her and nourish her stories. Her great joy is to tell, with words as well as images, simple but beautiful stories. She began her career by illustrating three books by Norwegian author Elisabeth Helland Larsen: Jeg er Døden, Jeg er Livet and Jeg er Klovnen (Life and I: a Story about Death, I am Life, I am a Clown, published by Little Gestalten). Hiro, Hiver et Marshmallows, published by Versant Sud Jeunesse, is the first album she both wrote and illustrated. She has since published a few picture books, ranging from books for babies to books for older children. She lives and work in Brussels.
Nina BOHLULY aka Ta Douce (she/her) | www.tonpiquant.be/nina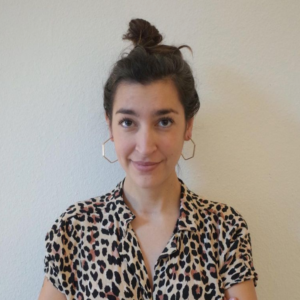 Is a 33 yo French illustrator & designer. She lives in Belgium for 15 years now and holds a Bachelor's Degree in Advertisment. After a few years in advertising as a creative copywriter, she starts her own freelance project « Ta douce », where she creates illustrations which play with words and slogans, through risography or embroidery tecnics. Her inspiration mainly draws on common feelings (love, hate, breakups, etc.) and feminism. She's part of the collective Atelier Ton Piquant with 6 other female illustrators where she gives embroidery workshops. She participated in collective exhibitions such as « Dites-le avec des pleurs », an embroidery exhibition with 2 other artists in Namur (South of Belgium). She's also a curator and co-organised « Mauvais coton » in March 2022, the first contemporary embroidery festival in Brussels.
Leticia SERE (she/her) | www.grafik.brussels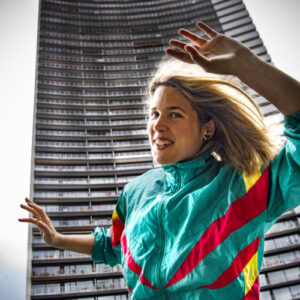 © Saskia Vandertischele
is an illustrator, curator and founder of Grafik, an Illustration space in Brussels. She studied Art history at the Vrije Universiteit Brussel, she specialized in Fine Arts and Art in Public Space. She did her internship as a guide at the Rene Magritte Museum (Jette) the house of the painter. After the theoretical part, she formed herself to practical illustration following specific illustration courses at the UAL (London). As a curator she organised many exhibitions and events with (international) artists like ATAK, Brecht Evens, Pablo Dalas, Chrudoš Valoušek,… As an artist she loves to make colorful eclectic illustrations, paintings and murals. Her favorite projects are those where she can combine playful creativity, social design and poster power.